Healing Hours Event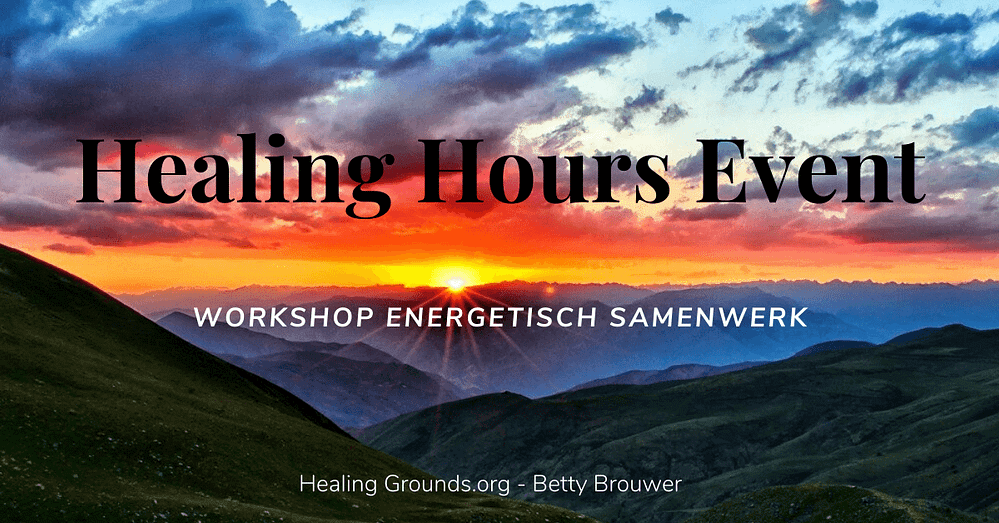 Dit event vindt plaats in EdanZ: In verband met de Corona maatregelen is het noodzakelijk om je aan te melden dat kun je doen via dit registratieformulier.
Ben jij -hoog- gevoelig of ben je nieuwsgierig naar energetisch samenwerk en lijkt het je fijn gelijkgestemden te ontmoeten? Dan is het Healing Hours Event voor jou!
( english below )
Het Healing Hours Event is een tweewekelijks workshop die een kennismaking is met energiewerk. Voor jezelf en of voor anderen.
Kom je vaker, dan kun je Healing Hours Event ook ervaren als:
Satsang Circle – het delen van vragen en thema's.
en als
Educatie en transformatie – het middels energetisch samenwerk inzichten en antwoorden krijgen, als ook innerlijke beweging.
Healing Hours Event is een ontmoeting vanuit een gezamenlijk hartveld. Kennis en ervaring wordt gedeeld over spiritueel bewustzijn, ons mens-zijn en ons verlangen tot leven vanuit eigenheid en helderheid in onze contacten..
Is Healing Hours voor jou?
Healing Hours Event is niet voor iedereen. Als een aantal van onderstaande kenmerken herkenbaar voor je zijn, weet je dat HHE voor jou is!
– Ben je nieuwsgierig naar energiewerk of healing?
– Vind je een moment van aangeboden diepte ontspanning | sjamanistisch mediteren of chakra werk fijn?
– wil je onderzoeken wat jij kunt met energiewerk, voor jezelf of anderen?
– Heb je eigen vragen of thema's die in beweging mogen komen?
– Vind je het fijn gelijkgestemden tegen te komen?
– Wil je energiewerk in brengen in je persoonlijk leven. Bv. door inzichten te ontvangen ?
Als jij je in alle of een aantal kenmerken herkend, dan is HHE voor jou! Het maakt hierbij niet uit of je veel ervaring hebt, of je begint met het verkennen van wat energiewerk is. Je bent welkom!
Hoe ziet de workshop avond eruit:
Tijdens de workshop ontvang je een diepte meditatie, visualisatie. Het is mogelijk hiervoor een thema aan te dragen die hierin wordt meegenomen.
Tijdens het tweede deel van de workshop wordt een Satsang-circle gehouden naar aanleiding van het thema van deze avond. Je kunt als je dat wilt een thema of vraag inbrengen. Deze wordt op verschillende manieren vanuit de healing tradities benaderd en onderzocht.
Je kunt zelf bepalen of je actief mee wilt doen, of liever wat meer op afstand.
Wat kan het je brengen:
Deze avond kan je diep ontspanning brengen als ook nieuwe inzichten.
Je kunt deze avond als een kennismaking ervaren. Kom je vaker, dan zul je merken dat het gemakkelijker wordt je eigen thema's in te brengen of iets van je eigen werk te laten zien of demonstreren.
Als het passend is geeft Betty life een demonstratie in reading en healing.
Over Betty Brouwer: Wie ben ik en wie zijn anderen, is een vraag die haar bezig houdt zolang zij zich kan herinneren. Toen meer dan 20 jaar geleden haar vader overleed en zij hierbij een diepe spirituele ervaring ontving begon ze haar vraag op een andere manier, met een extra dimensie, te onderzoeken. Betty bestudeerd inmiddels meer dan 20 jaar bewust het padwerk van ziel-omarming en mens-zijn. Zij doet dat door energiewerk en het onderzoeken van contact. Contact in onszelf, met elkaar en voorbij wat we met onze zintuigen kunnen zien.
Rond het jaar 1999 volgde zij haar opleiding aan het Elohim Centrum. Nu is zij in haar laatste jaar energetische therapie van de beroepsopleiding Caduceus te Lieveren en studeert het komend half jaar af. Zij werkt sinds 10 jaar als medium, energetisch life & business coach. Neem contact met haar op als je een consult wilt ontvangen.arnaast is Betty werkzaam als webdesigner waarbij zij haar studie in energiewerk met liefde inzet, zodat het werk van sociale en bewuste ondernemers ook vanuit deze samenwerking gezien kan gaan worden.
Praktische informatie
Locatie: Edanz – Groningen. Van oldenbarneveldtlaan 6, Groningen ( parkeren kan op het terrein )
Kosten: Dit is een Edanz Event. Dat betekent dat je een eerste keer mee kunt doen voor 6,-. Daarna 8,- per keer of via een strippenkaart 6,-. Betalen kan aan de balie in EdanZ
Tijd: 20:00 – 21:30 ( eindtijd kan uitlopen )
Data: zie verderop in dit evenement en check vooraf altijd de EdanZ agenda ( www.edanz.nl of www.healinggrounds.org )
Contact: Betty via info@healinggrounds.org
Website: www.healinggrounds.org
Nieuwsbrief: Schrijf je op de website in voor de nieuwsbrief je ontvangt dan regelmatig een reminder van dit event.
English:
Healing Hours: Meditation / depth relaxation and heart field activation | Healing traditions | Satsang circle.
Would you like a nice relaxing moment where you will be fulfilled, renewed and recharged? Do you want to know more about mediumship and healing? Or would is just be nice to meet like-minded highly sensitive people with the desire to find and fulfill their mission? Then take part in the Healing Hours. A bi-weekly Edanz Event by Betty Brouwer ( TwaneYa). To be followed individually or in combination with the training that will be announced at a later date.
Each Healing Hours evening we will receive and share that which may be seen, experienced and lovingly set in motion. There is no pressure, we will stay within the bounderies of what feels comfortable.
Several life themes will be introduced. You can actively participate or take a more laid back approach.
Meditations will be held in silence or accompanied by soft music or with visualization. Healing will occur through inner viewing / scanning, as well as by experiencing what you can safely receive.
You are more than your body. We can also feel renewed contact with ourselves and our environment through treconnecting with our energetic system. If you become aware of this and than filter on what is important to you and how, you will come home . At home as a highly sensitive person with a mission to experience and introduce her or his individuality. Your body, energetic field and deep heartconnecting can be experienced and work together.
Betty Twaneya supervises this evening. For 20 years she has been consciously practicing the pathwork of soul embrace and earthly individuality. She does that through energy work and researching connections. Connection within ourselves, with each other and beyond what we can see with our senses. Around 1999 she followed her training at the elohim center and is now in her final year energetic therapy of the Caduceus vocational training in Lieveren.
She follows her soul cry to bring in the knowledge she has received and made her own during this period and to use it for the benefit of others. Not to save the world or you. Not to be dominant or an all-rounder, but to use sensitivity as a force. To open the personality to your deepest core, your heart field. So that it may be present as a heartbed in your life and work. Here you can get your inspiration and nutrition. You can be and become completely yourself, apart from projections and conditioning, so that you can express yourself in a completely open heart field.
These evenings can be followed separately. Betty will start a training later in the year. These evenings will become part of that training.
Betty may involve the work of others, either live or on film or in writing. In our world there are many who share their work who are an inspiration to us all.
Are you ready to go into your inner world this way or start implementing your mission in the world? Would you like to know more about healing traditions? Are you looking for answers and insight? Then you are very welcome to participate in the Healing Hours evenings. No specific prior knowledge or training needed.
You can participate for the first time for an introduction for 6 euros
Normal price:  8 euros
Or with Edanz Card, 6 euros
Upcoming dates: You can find them in the agenda or on www.healinggrounds.org
website: Healing Grounds
Future dates will be announced on the website from EdanZ, healing ground and  facebook